Blog
Health
September 6, 2022
Soups On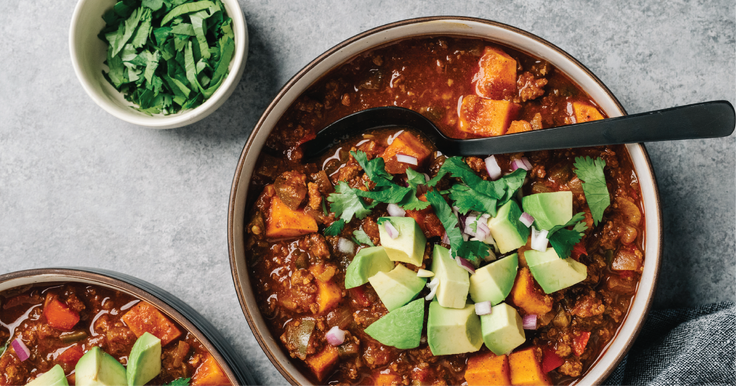 A recipe to help warm your heart and soul this fall.
On a crisp fall day, not much beats a steaming bowl of soup or stew. It's comforting. It can fill your home with mouth-watering aromas. And it's satisfying, especially when packed with vegetables and spices. But that's not all. Soups and stews offer an easy way to get some of the American Heart Association's recommended 4½ daily cups of vegetables, plus you can fill out your bowl with beans or chicken for protein.
Turkey chili
Ingredients
2 Tbsp. canola or light olive oil
1 large onion, diced
1 to 2 cloves garlic, finely diced
2 stalks celery, diced
1 medium sweet potato, peeled and cubed into 1-inch pieces (optional)
2 red, green, or yellow peppers, diced
1 pound ground turkey
1 Tbsp. chili powder
1 tsp. salt
2 tsp. cumin
1 tsp. dried oregano
½-tsp. cinnamon
½-tsp. ground coriander
Pepper to taste
1 can (14 ounces) diced tomatoes
1 can (8 ounces) tomato sauce
1 can (14 ounces) black or kidney beans, drained and rinsed
Water or broth
Directions
In a large pot, warm oil over medium heat, add the onion and celery, and sauté until softened, about 4 minutes. Add garlic and peppers and cook another minute or two, then add the turkey. Stir and break up the turkey, cooking until it's no longer pink.
Add spices (chili powder through pepper) and stir for 1 minute. Add tomatoes and tomato sauce and enough water or broth to cover. Simmer over low heat for about 20 minutes. Add beans and more water or broth, if needed, and simmer another 15 minutes. Garnish with chopped cilantro and avocado.
Yields 6 servings | Prep time 20 minutes | Cook time 35 minutes
Mary Lahr Schier is the author of The Northern Gardener, From Apples to Zinnias (Minnesota Historical Society Press, 2017). She also hosts a garden podcast, Grow It, Minnesota.