Blog
Community
September 13, 2023
Cranberry Orange Snack Bread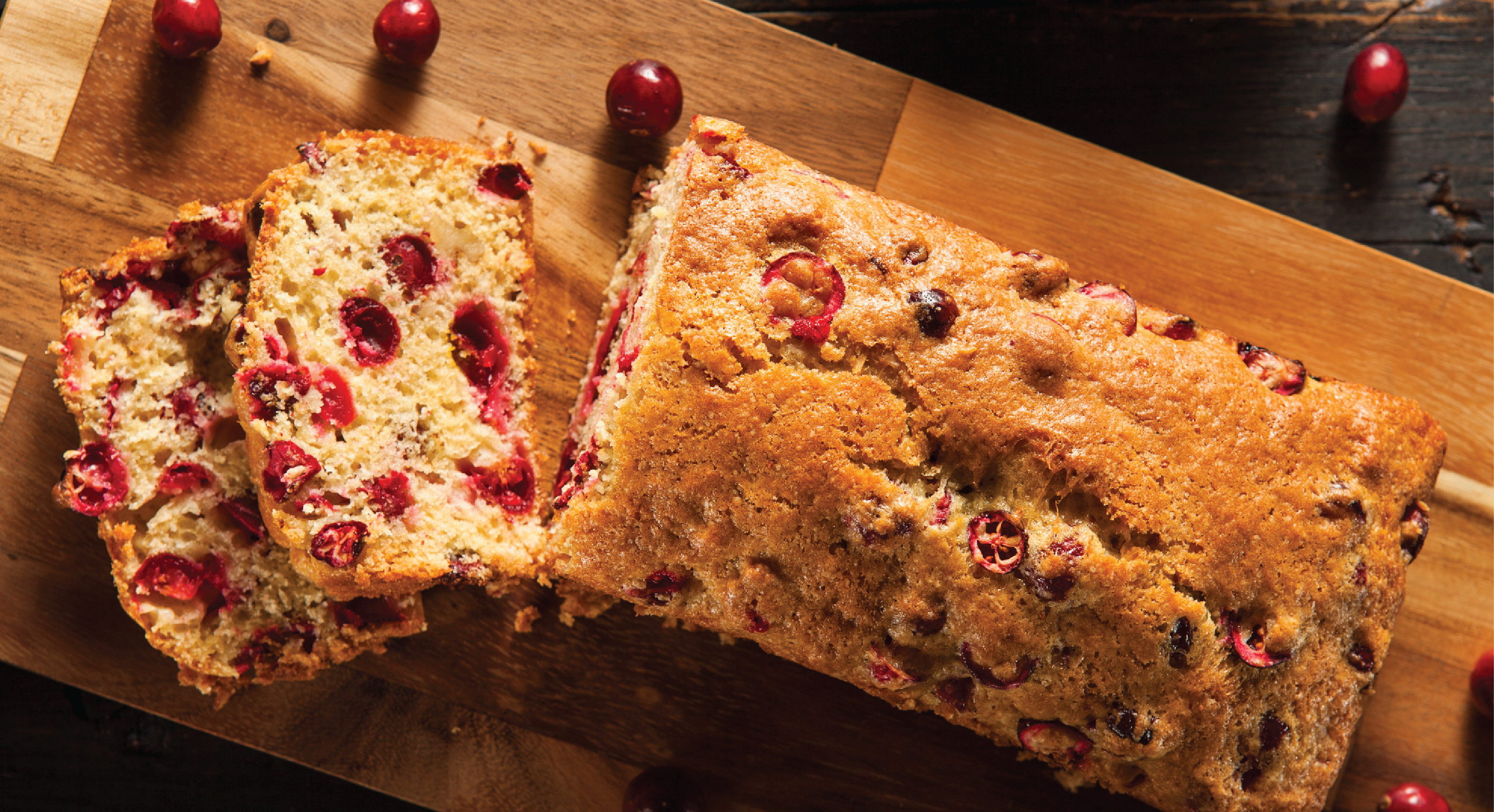 Mouth-wateringly good — and good for you.
Cookies. Cheese boards. Cakes and pies. The holidays can be a two-month indulgence that starts with sneaking candy from the Halloween bowl and ends with searching for diet advice on January 1.
But it doesn't have to be that way. You can get through to the new year by sticking with your usual exercise regimen, staying close to your normal eating habits, and seeking out healthier options from the dessert tray.
Start here: This bread boasts all the flavors of fall, and it has half as much sugar as most snack breads. Enjoy it with a holiday brunch or as a treat when friends visit. The glaze is optional, but delightful.
Yields: 16 servings
Prep time: 30 minutes
Bake time: 75 minutes
Ingredients
1½ cups all-purpose flour
½ cup whole wheat flour
½ cup dark brown sugar
1½ tsp. baking powder
½ tsp. baking soda
½ tsp. salt
Zest of 1 orange
1 egg
1 cup unsweetened applesauce
¼ cup flavorless oil, such as canola
½ tsp. vanilla
2 cups fresh or frozen cranberries, rinsed and dried
Optional glaze
1-2 Tbsp. orange juice
Powdered sugar
Directions
Coat a 9-inch loaf pan with butter and flour or line with parchment paper. Preheat oven to 350 degrees. Whisk together flours, sugar, baking powder, baking soda, salt, and the orange zest. Pour the wet ingredients into the dry ones and combine until all flour blends together (but don't overmix). Gently fold the cranberries into the batter and transfer it to the prepared pan. Bake for about 75 minutes. The bread will rise slightly and pull away from the sides of the pan. Want to make sure it's done? Insert a toothpick into the bread — it should come out clean when it's done.
Cool in the pan for about 20 minutes, remove, and let the loaf cool completely. To make the glaze, add enough powdered sugar to the juice and mix until it reaches your preferred thickness (about ½ cup usually works for me). Spread the glaze over bread and allow it to harden.
Mary Lahr Schier is the author of The Northern Gardener, From Apples to Zinnias (Minnesota Historical Society Press, 2017).