News Release
May 23, 2022
Medica Salutes Veterans by Raising Flag Flown in Kuwait and Syria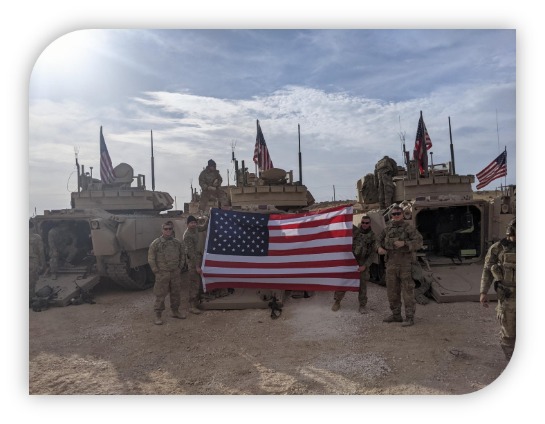 Flag Ceremony Scheduled for May 26 Includes National Guard, Military Missing Service Member Table and Color Guard

MINNETONKA, Minn.,--Medica will host a special flag raising ceremony on Thursday, May 26, to honor armed services veterans who have passed away in the line of duty and the veterans who now work at Medica. The event, open to the public, will take place at noon at Medica's offices at 401 Carlson Parkway, Minnetonka, Minn.

It will be the first time the U.S. flag has been raised at Medica, which recently installed a flagpole. It is customary to raise a flag of significance the first time one is raised on a new flagpole.

The flag was provided by Medica's employee veteran's group – Medica Salutes --- to the Minnesota National Guard's 1st Combined Arms Battalion, 194th Armor Regiment while it was on a tour of duty in the Middle East. The flag was flown in Kuwait and carried on patrols in Syria. The flag will be commemorated by National Guard Lieutenant Colonel Jake Helgeson, Commander. A color guard from the University of Minnesota ROTC also will be on hand to present colors.

"We are honored to have this flag be the first one to fly over Medica," said John Naylor, Medica President and Chief Executive Officer. "It symbolizes the important sacrifices of our armed forces veterans and recognizes the service of our Medica veteran employees. Because of the pandemic, we haven't been able to gather in person for two years to recognize these brave people and we felt it was important to raise a flag that carries such significance."

The flag raising ceremony is an extension of Medica's support for 1-194th and the Minnesota National Guard. Medica has provided the unit coffee and many other comforts of home during its deployment.

The event also will feature a Missing Service Member Table, which symbolically is reserved to honor missing comrades in arms.

PLEASE NOTE: In the event of inclement weather, the ceremony will be moved indoors at Medica. Our covid policy requires that all visitors provide proof of vaccination or a mask must be worn in our building.